Sync my address book:
For users of
Kontact

, it's possible to work in interactive mode:
when you modify a contact your Memotoo address book is updated directly
(and vice-versa).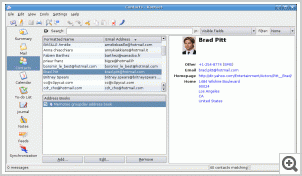 Kontact / Kaddressbook
Create an address book in the application:
If you choose "GroupDAV server (e.g. OpenGroupware)", enter this address in "URL":
Sync some Memotoo groups?
| | | | |
| --- | --- | --- | --- |
| 1. KDE Address Book (traditional) | 2. Select "GroupDAV server (e.g. OpenGroupware)" | 3. Fill in the fields and click "Update folder list" | 4. Check the folder that you want to sync |
Sync my calendar: